Historical fiction, of all periods and persuasions, has become my go-to genre fiction comfort reading. So, given my love of Chinese literature, there is a sweet spot in the Venn diagram of historical fiction set in China, which is a surprisingly rare occurrence.
Most historical fiction, in the UK at least, falls into a handful of established categories: the rip-roaring battle-tastic boy's own adventures, from Rome onwards; the female-led courtly dramas with lots of meaningful looks and a serious Tudor fetish; and the 20th century thrillers, usually full of spies and traitors, Germans and Russians. Historical crime can sit in any period and any part of the world, providing there is a compelling protagonist and an intriguing setting. Then there is the extra-special je ne sais quoi category of historical fiction (or is it just a marketing technique?) that somehow transcends its genre and becomes literary fiction that just happens to be set in the past, with Wolf Hall the trailblazer.
Given how rich Chinese history is in adventure, courtly drama and twentieth century intrigue it has always amazed me that either these stories aren't being written for western audiences, or aren't finding their market. A quick scan of Barnes and Noble implies that more are available in the US, particularly novels about missionaries in China. My wife, a historical fiction author herself, has a simple response to this complaint: write your own. Maybe one day.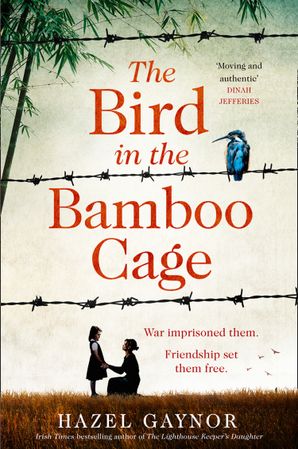 So it's a delight to see an established (and HWA Gold Crown nominated) historical fiction author in Hazel Gaynor turn her hand to a China-set story with The Bird In The Bamboo Cage (or When We Were Young And Brave in the US / Canada). And it's a double delight for me personally to see that it is set in Chefoo (part of Yantai). Yantai was the first Chinese city I set foot in when I taught there for a summer, and as a treaty port should lend itself well to historical fiction. I'm not aware of any other novel taking Chefoo as its main setting, neither can I think of any other novel telling a female-led approach to Japanese internment camps, so this felt quite fresh to me.
Gaynor specialises in female-led stories of the early twentieth century and, Chinese setting aside, Bamboo Cage is very much in keeping with her previous work. Inspired by real events, we witness the impact of the Second World War in China on the staff and pupils of Chefoo School, educating the children of western missionaries and diplomats. We start in the school itself, as it is occupied by Japanese troops, before they are moved to another site and finally to Weixian Civilian Assembly Centre – time passes quickly, and covers most of the War.
There are some clear risks to this approach. Firstly, with a cast of characters largely resembling an English girls school, the war could come across at best prim and coy, at worst rather jolly-hockeysticks, more concerned with the state of the cricket field and their Christmas goose than the wider war. Gaynor manages to avoid this by telling the story through two main protagonists' points of view: 10 year old Nancy Plummer, the daughter of missionaries whose girlish preoccupations such as her friends, the kitten Tinkerbell and her box of letters from her mother take on more sombre resonances as the war progresses; and Elspeth Kent, who left an unhappy life in England and who was due to return before the Japanese take over the school. The dual perspectives work well – events which affect both characters acquire an extra depth, and the more mature perspective of Elspeth, who is the victim of sexual assault by a guard and witness to more grown-up plotting, balances Nancy's concern well. Nancy's perspective, in turn, beautifully conveys the raw, lost innocence of someone witnessing the deaths of increasingly close characters. It is the little perceptions of her child's view, such as comparing the blackened bread roll to a rounders ball which build Nancy into a real girl. It's a mark of success that I could tell the voices apart immediately, and that I didn't prefer one character's voice over the other – they are distinct and equal. Certainly the portrayal of the horrors of war is more coy than Chinese fiction about the period or, say, Empire of the Sun, and the characters do acknowledge that other camps had it worse, but it is very affecting without needing to be graphic.
The other risk is that, by choosing to focus on Chefoo school, Chinese characters are relegated to passive supporting roles. The view of the Second World War in China as the perpetuation of horrific crimes to a supine mass of people without agency is quite common and very unfair. Because of the setting chosen Gaynor is very sympathetic to the Chinese but does not have many Chinese characters, and the few here (Shu Lan and Wei Huan, servants at the school who are refugees of Nanjing) only report off-page action and have limited English, making them more objects of pity for the main characters, but who do account for main characters being aware of wider events in China. I think that is a missed opportunity, but I understand why Gaynor has done this. But then most characters here, are by virtue of their situation, quite passive in the face of the enormous events, and that is where the novel derives its emotional power. This even extends to one sympathetic Japanese guard who is powerless and ashamed under his own regime, which is a surprisingly humanitarian addition to the plot.
Gaynor's research is thorough (I was pleased to see shout-outs for Pearl Buck, Isabella Bird and a cameo for Eric Liddell), although I would nitpick that I'm sceptical the characters would have been aware of comfort women, who are referred to. Many details of characters' lives are particularly touching, really building the portrayal of survival and friendship – one woman passing round her perfume because 'I don't exactly have any special occasions to save it for' any more, for instance, or the stiff-upper-lip persistence of the Girl Guides in creating the 'Weihsien Star' special award. I don't think the coda set in the 1970s added much to the story, and it may even have been more effective without it (I am always sceptical of such framing devices).
I was profoundly moved by the fates of Nancy and Elspeth in The Bird In The Bamboo Cage – it is a great historical novel and a fine addition to the short canon of China-set historical fiction.
PS: I assume Hazel Gaynor is an Elvis fan – not only does the man himself get a mention in the coda, but (potential spoiler) one character even says 'Don't cry Daddy, please don't cry.' Am I right?